Tim Springer: Scientist, entrepreneur, and mentor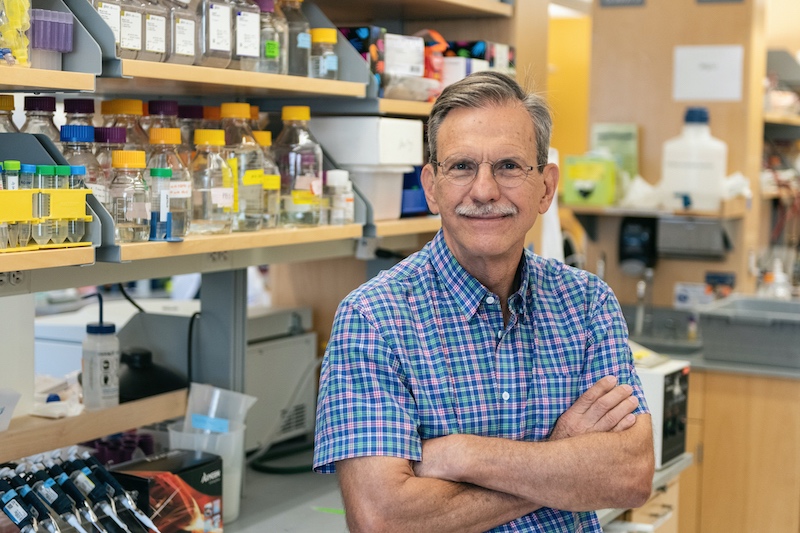 As an undergraduate in 1966, immunologist, biochemist, and biophysicist Timothy A. Springer, PhD, looked askance at science. The Vietnam War was going on, and he saw science as a means of making Agent Orange and napalm. Questioning his own Ivy League education, he left Yale to spend a year as a VISTA volunteer on a Native American reservation.
Not the start you'd expect for a scientist who just received a Lasker Award, one of medicine's highest honors. Or one whose work has influenced so many fields in science — from immunology to hematology to infectious diseases.
A senior scientist at the Program of Cellular and Molecular Medicine (PCMM) at Boston Children's Hospital and the Dana-Farber/Boston Children's Cancer and Blood Disorders Center, Springer shares the Lasker Basic Medical Research Award with Richard Hynes, PhD, of MIT, and Erkki Ruoslahti, MD, PhD, of Sanford Burnham Prebys (La Jolla, Calif.). The award recognizes discoveries concerning integrins.
Found in nearly every cell in the body, integrins connect cells to their surroundings and influence their interactions with other cells. They belong to a larger family of proteins called adhesion receptors that enable cells to recognize one another.
I had no idea about curing disease when I started out. I just thought it would be fun to do research."
Springer's research around integrins and adhesion molecules has advanced the understanding of the immune system and autoimmune disease. His science — and later, entrepreneurship — have led to seven new drugs, including integrin-targeted drugs for multiple sclerosis, dry eye disease, ulcerative colitis, and Crohn's disease, as well as blood cancers: non-Hodgkin's lymphoma, multiple myeloma, and B-cell chronic lymphocytic leukemia.
Integrins: Integrating human physiology
Switching to biochemistry at the University of California, Berkeley, Springer began to study proteins and how changes in their shape could alter their function. "I had no idea about curing disease when I started out," Springer told an audience in 2019. "I just thought it would be fun to do research."
He worked under superb mentors: Jack Strominger, MD, who won a Lasker Award for his work on T cells and immune defense, and César Milstein, PhD, who had co-developed a technique for producing monoclonal antibodies that later led to a Nobel Prize.
Landing at Harvard Medical School (HMS) in 1977, Springer began making monoclonal antibodies as tools to study the immune system. His subsequent discoveries around adhesion molecules and their cellular receptors led to two drugs for psoriasis, approved by the FDA in 2003.
Later, Springer, Hynes, and Ruoslahti independently discovered integrins. Springer then painstakingly uncovered how integrins help immune cells, particularly the white blood cells known as leukocytes, make their way out of blood vessels and into the right tissues to fight infection.
From this work emerged a three-step model. Springer felt it could explain what goes wrong in autoimmune disease, in which the body mistakenly attacks itself. Blocking any one of the three steps, he proved, could stop leukocytes from exiting vessels, thwarting autoimmunity's damage.
"I thought, 'This is a huge new area for drug discovery,'" Springer says. "I needed to do something much bigger than what I could accomplish in my lab alone."
Becoming an entrepreneur
Springer's Dana-Farber colleague William Haseltine, PhD, a highly experienced entrepreneur, saw that Springer's three-step model opened the door to an entirely new class of drugs for autoimmunity. He invited Springer to a board meeting of the investment firm Healthcare Ventures.
After his formal presentation, Springer fired up a movie of the three-step process. To help illustrate one of the steps, known as leukocyte adhesion, he lobbed a sticky ball at the screen and exclaimed, "See that? That's how the cell rolls in the circulation."
Springer's passion and unconventional style caught the investors' attention. LeukoSite was born in 1993 and later gained FDA approval for three new drugs. In 1999, LeukoSite merged with Millennium Pharmaceuticals, and Springer found himself with more money than he'd ever had.
"How does this affect what I do in life?" he wondered.
Launching others
Back in his academic lab, Springer developed expertise in structural biology and biophysics. But he was also developing a keen eye for investing, starting with a company founded by his colleague Ulrich von Andrian, MD, PhD, which was making vaccines and immunotherapies.
Next came PCMM investigator Derrick Rossi, PhD, pitching the use of modified RNA (mRNA) to make new drugs. Intrigued by the science, Springer became the founding investor in Moderna Therapeutics, which today is best known for its COVID-19 mRNA vaccine. Springer has founded or invested in six further biopharmaceutical companies: Editas Medicine, Scholar Rock, Morphic Therapeutic, Ab Initio, Tectonic Therapeutic, and Seismic Therapeutic.
In 2015, Springer returned to his idealistic roots, co-founding the nonprofit Institute for Protein Innovation. IPI's philanthropic mission is to advance protein science, accelerate research, and improve human health while nurturing young scientist-entrepreneurs.
Back at the bench
That dream fulfilled, Springer is now back at the bench making more discoveries. Recently, he and his team showed why some integrin inhibitors have failed in clinical trials, and improved their chemical design so they can, Springer hopes, better treat diseases.
Other interests include the role of protein interactions in bleeding disorders and understanding the proteins the malaria parasite uses to infect human cells, with the goal of developing a new vaccine.
"One of the fun parts about science is interacting with students and postdoctoral fellows," he says. "I not only teach them, but they teach me. That's when ideas flourish and discoveries are made."