Noah the brave: A cross-country quest for a biventricular repair
If you walked down Binney Street next to Boston Children's hospital this fall, you might've noticed something a bit out of the ordinary. Parked on the sidewalk, just out of the way of passers-by, sat a large RV. On the back of the camper, a large photo of a smiling 5-year-old Noah Alderson told part of the story, "Meet Noah the Brave. Bound for Boston for our son's life-saving heart surgery."
Inside the camper, the extraordinary story of Noah and his family was unfolding in real time.
Noah, his parents, Tanasha and David, and his three siblings, all made the journey from Spokane, Washington to Boston in the RV with the hope that cardiac surgeon Dr. Sitaram Emani could provide a heart surgery that would give Noah the best chance for survival.
The surgery, a biventricular repair, would help increase the function of Noah's left ventricle, giving him a heart with two ventricles, or pumping chambers, instead of one. For Noah's parents, the surgery was the culmination of months of internet searches and dead ends.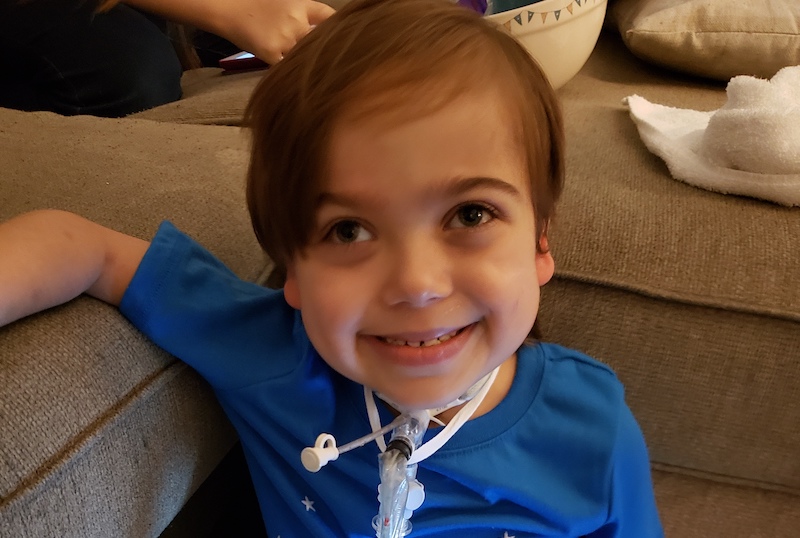 A prenatal diagnosis
Noah's heart journey began before he was even born. "We found out there was a problem when I was 19 weeks pregnant," says Tanasha. "We went in excited to learn if he was a boy or a girl, and were shocked to discover he had several heart defects."
Further tests determined that Noah had pulmonary atresia, dextrocardia with sinus inversus, a very large ventricular septal defect (VSD), and heterotaxy. He had his first two surgeries in Washington, the first at 4 days old and the second at 10 months old.
But when Noah was 2 and it was time for a third surgery, called the Fontan operation, Tanasha and David became nervous. "Our local hospital thought the Fontan was the best option, but when we got second, third, and fourth opinions, the other hospitals told us that there was a high risk he wouldn't make it because he was on a ventilator. But none of them could give us any other options."
Searching for hope, finding it in Boston
The couple began researching online, connecting with parents who had been in similar circumstances. They stumbled upon a Facebook community of moms of kids with congenital heart defects. "That's when we first heard about biventricular repair and Boston Children's," says Tanasha. She reached out to Drs. Pedro del Nido and Sitaram Emani right away. "I called and spoke to someone on the phone who told me Dr. Emani was on vacation. I was so upset I started crying and couldn't stop."
A few hours later, she got a call from Dr. Emani, who was still on vacation. "He said he had heard I was really upset and he wanted to let us know there was hope. Though he said there was only about a 25 percent chance he might be able to help."
That was exactly what Tanasha and David needed to hear. "That was our only hope. A 25 percent chance is better than no percent. We knew we had to get Noah to Boston."
But transporting Noah from Spokane to Boston was no easy task. Because he needed high levels of oxygen, he wasn't allowed to fly commercially. And a med flight would only be covered if he was inpatient. It was also important to Tanasha and David that their whole family travel together, so they would not have to be separated from their other three children.
That's when they came up with the idea of an RV. After one donated RV fell through because of electrical problems, they were back at the drawing board. Tanasha took to the phone, looking for help. "I called about 100 places to tell them our story, but nobody wanted to help."
Finding an answer to traveling prayers
Finally, Tanasha's sister recommended they reach out to Help Me Hayley, a local news reporter who shares stories of people in need. "My sister wrote a letter and Hayley contacted us right away. She did a story on the local news, and the next day we had 60 offers of help." The offer they accepted was from Outdoorsy, a company that rents RVs.
"Outdoorsy said they would donate the whole cost of the RV rental and help with the cost of gas," says Tanasha. "But they ended up doing so much more. They also helped us coordinate stops along the way that were on Noah's bucket list, so it was like a mini family vacation." Along the way, other drivers honked and cheered as the family made their way across the county.
Once in Boston, they parked the camper just steps from the hospital. "We were amazed by the engineering staff from Boston Children's who helped us set up the RV," says Tanasha. "They went way above and beyond, hooking us up to electricity and water. It was really amazing that the hospital provided a way for us to stay so close to him."
A successful surgery and trip home
After a slight delay, Noah had surgery in early September, and the family spent a total of two months and two days in Boston. "It was great to be so close to the hospital and to have all of our family together," says Tanasha. "I don't feel like I could have done it if my other kids weren't there, too."
On the way home, Noah's cardiologist, Dr. Rebecca Beroukhim, helped them arrange stops at hospitals along the way for testing. "Dr. Beroukhim was also there for us during our entire stay in Boston, which was really comforting. She was always available to help us with whatever we needed."
So far, Noah seems to be doing well, though he's still tired and recovering. "We've noticed a lot of positive changes," says Tanasha. "Like now he has visible veins, so they can draw his blood without putting him under anesthesia. He's happy and playful, and seems mostly back to his old self."
His family was happy to have him home to celebrate his fifth birthday, a milestone his parents don't take for granted. "Before Noah was born, we were told he probably wouldn't be able to survive, and now he's 5. I feel like Dr. Emani saved my son's life, and we're so grateful for that."
The experience has also made her adamant about parents seeking a second opinion. "I think that everyone who receives a serious diagnosis should definitely get a second opinion at a place like Boston Children's. They just have so much more information, and local doctors may not know that other treatments exist."
Learn more about the Complex Biventricular Repair Program.