Camp Journey and a horse named Evan build Luca's confidence
Until this summer, 8-year-old Luca Castellano had never been on a horse. But after participating in Camp Journey, a therapeutic riding camp for kids with congenital heart conditions, he was riding and caring for a horse like a pro. "Luca pretty much fell in love with a horse named Evan," says his mom, Rebecca.
Camp Journey is offered to patients through the Boston Children's Hospital Cardiac Neurodevelopment Program (CNP). While the primary goal is to provide kids with a fun and accessible recreational experience, it's also meant to help build self-confidence, develop balance and stamina, and support self-regulation through interaction with horses.
"We want the kids to develop friendships, and to relax, have fun, and not think about their illness," says Catherine Ullman Shade, director of education for the Cardiac Neurodevelopmental Program.
A prenatal diagnosis
Luca has been a patient of the Heart Center since before he was born, when an 18-week prenatal ultrasound found that he had a problem with his heart. His family was referred to Dr. Wayne Tworetzky, director of the Fetal Cardiology Program at Boston Children's, and he was diagnosed prenatally with aortic atresia with ventricular septal defect. He had two open-heart surgeries as a baby and then had a mechanical valve placed in April 2018 in the cardiac catheterization lab.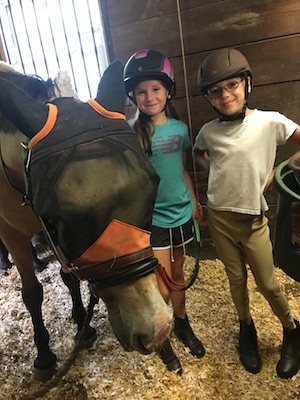 Luca and his family first met psychologist Samantha Butler from the Cardiac Neurodevelopment Program when he was inpatient after his first open-heart surgery. As he grew, Luca had several CNP evaluations with psychologists Anjali Sadhwani, Brandi Henson, Janice Ware, and Catherine Ullman-Shade to check on his development. "Right before kindergarten, they did a whole workup and recommended that Luca have an individualized education plan (IEP)," says Rebecca. "But his school thought they could handle his needs in class with the extra help and services they already had in place, so they said he didn't need it."
Luca struggled with developmental delays and with reading, until finally at the end of second grade, the school put an IEP in place. "I wish I had pushed harder, we knew Boston Children's had recommended the IEP, but he's doing better in school now that it's in place," says Rebecca.
Developmental issues are a surprising challenge
She says that Luca's developmental issues have been a surprising challenge in his heart journey. "We thought the medical issues would be hard to deal with, but that's been easy compared to his developmental delays and deficits," says Rebecca. "We've really appreciated all the strategies the team in the Cardiac Neurodevelopmental Program has given us, like calming techniques and ways to deal with dysregulation."
So, when Luca had the opportunity to attend Camp Journey for a week this summer, Rebecca signed him up right away.
"They had volunteers teaching them to walk and trot, and they learned how to groom and feed their horse," says Rebecca. "It really bolstered his confidence. He was able to get on the horse and did well. It opened his eyes that he doesn't have to be afraid — he was able to participate in these activities and accomplish tasks on his own."
On the last day of camp, they held a show for parents. "Luca talked all week about how he was going to decorate Evan for the show, like a superhero, and even wore a cape to ride him. He got so much out of the program. It was such a good experience for him."
Learn more about the Cardiac Neurodevelopmental Program.