Research aims to pinpoint genetic connection between autism and heart disease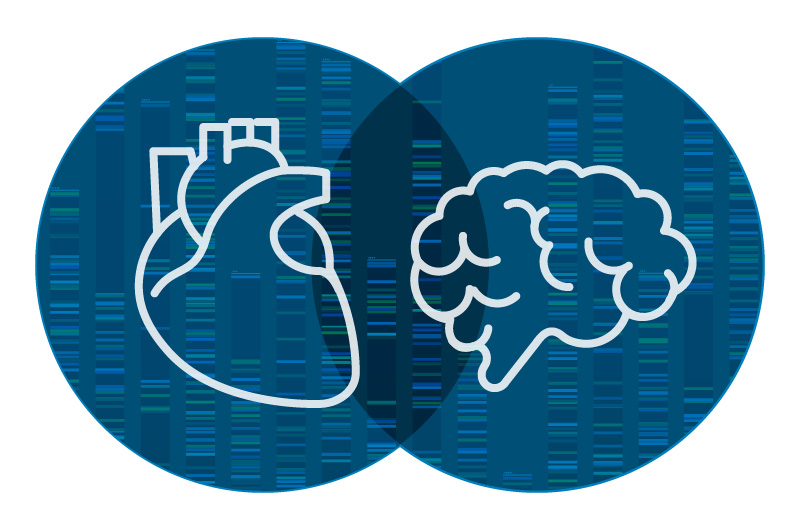 Cardiology and neurodevelopmental researchers have more questions than answers about the possible genetic links between congenital heart disease (CHD) and autism spectrum disorder (ASD).
A study that's underway at Boston Children's aims to pin down those elusive answers by taking a close look at the genetics of children with neurodevelopment and cardiovascular conditions. The researchers want to see if there are genes that cause both ASD and CHD. With a better understanding of a possible genetic connection, scientists could create targeted treatments and families would know more about the basis for their child's health.
"It's reasonable to speculate that there may be genes that can cause both autism and congenital heart disease or have complex presentations due to more than one genetic change that might explain why a child has neurodevelopmental and cardiac issues," says Amy Roberts, MD, co-director of the Center for Cardiovascular Genetics and one of the lead investigators of the study.
CHD and neurodevelopment are linked, but autism connection is unknown
Research has shown a strong association between CHD and neurodevelopment delays. Despite living long and healthy lives after heart treatment, many children with CHD experience neurodevelopment challenges. They may have difficulty communicating, eating, or moving around, and they may struggle with schoolwork and staying focused.
Yet little is known about the genetic connection between CHD and ASD, aside from studies that illustrate the need for further research — such as the finding that people born with CHD have about a 33-percent increased likelihood of being diagnosed with ASD.
In the center's clinic, Roberts sees many children with both CHD and ASD. They will usually have had other testing that tried to determine a genetic cause for autism, but the testing did not necessarily attempt to also find one for CHD, she says. When Boston Children's Rare Disease Cohort (CRDC) — an initiative that studies the genomics of nearly 50 rare diseases — put out a call for applications, she knew an opportunity to jointly explore the two conditions was just an internal email away: Maya Chopra, MBBS, FRACP, a clinical geneticist with the hospital's Rosamund Stone Zander Neuroscience Center.
"The pace of gene discovery for autism and other neurodevelopmental disorders is rapid," says Chopra, the study's other lead investigator. "But discoveries often stem from large study groups without a lot of detail on individual patients. We often wonder, 'Are there any physical differences? What was their growth trajectory? And did anyone look at their heart?'"
Looking for elusive genes and definable answers
Chopra and Roberts don't want to approach the research thinking only about "heart genes" or "brain genes" but instead want to learn more about the broad but complex genetic mechanisms that are critical to both cardiovascular health and neurodevelopment.
Rather than looking strictly at the genetic profiles of children, age two and older, who have only ASD and severe CHD, the study will also include children who have been diagnosed with neurodevelopment disorders and mild CHD. That's because variants in the same gene can cause ASD as well as other neurodevelopment presentations such as an intellectual disability or epilepsy, and care for the conditions can overlap clinically, Chopra says. And rather than limit participants to those with severe CHD, it made sense to include children who have had more minor structural change to their hearts, Roberts says, because they, too, can experience neurodevelopment issues.
There are other considerations for their research. "Some children were very sick as newborns and had operations and were in intensive care," Roberts says. "Often, parents and physicians will attribute any neurodevelopmental difficulties to that complicated history. That history may have contributed, but there might be a genetic mechanism that led to both, or it may be that having a genetic variant makes the child more predisposed to developing autism. Why is that? That's one of the questions we're trying to answer."
Adds Chopra: "We do want to make research discoveries, but we also want to get answers into the hands of families. It has been shown that a specific genetic diagnosis can impact not just the individual patient but also the medical management of an entire family. We can see the impact of this kind of work, and we'd love to add to it."
If you'd like to learn more or have your child participate in the study, please reach out to Zoe.Frazier@childrens.harvard.edu. Have a patient you'd like to be considered for the study? Reach out to our team at the Center for Cardiovascular Genetics.