My nursing story: Brittany Frazer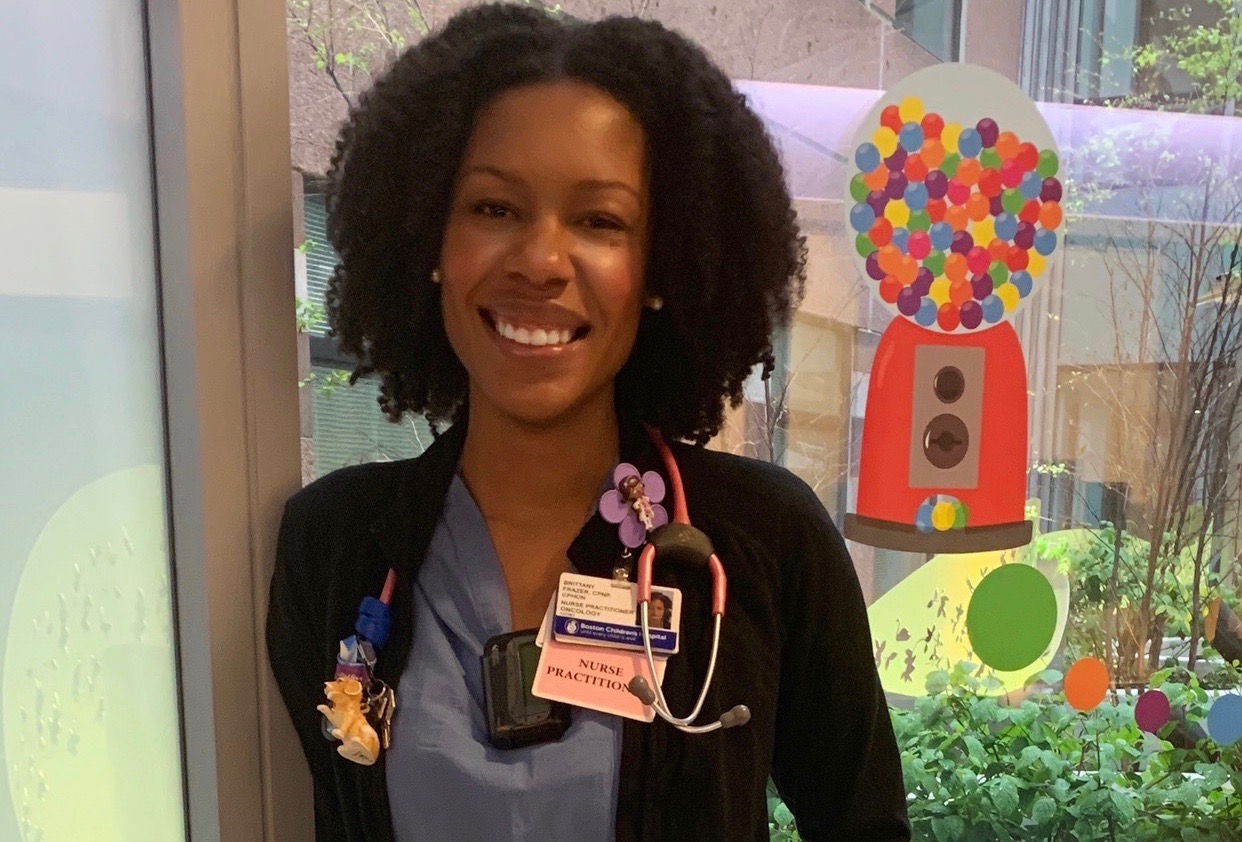 Brittany Frazer, RN, CPNP, CPHON, is an advanced practice registered nurse level I at Dana-Farber/Boston Children's Cancer and Blood Disorders Center.
Getting from one place to another in life is a journey; the circumstances along the way help you appreciate it, and, when you achieve your goal, it's truly a bonus.
When I moved to Boston almost nine years ago, my long-term goal was to become a pediatric hematology/oncology nurse practitioner at Dana-Farber/Boston Cancer and Blood Disorders Center.
On the day I arrived in town, I stopped by Boston Children's to sign up as a volunteer, expressing my desire to work with the oncology population. I was graciously assigned a volunteer position on the Bone Marrow Transplant Unit at Dana-Farber/Boston Children's. I spent week after week between classes and clinics with children who faced devastating odds, yet demonstrated the most courageous and admirable attitudes. I realized that my desire to work with them was more: It was a passion.
Nearing the end of my first year in the accelerated direct-entry nursing program at Northeastern University, I was thinking about the senior practicum experience on the horizon. I decided to approach Lisa Morrissey, MPH, MSN, RN, CPHON, the nurse manager of inpatient care at Dana-Farber/Boston Children's, to express my interest in this area. Lisa was impressed with my ambition and arranged for me to have my senior practicum experience with hematology/oncology. I was elated.
Sunday, September 18, 2011, was my first day on the unit as a nursing student. I remember that shift like it was yesterday. I was an eager, but absolutely terrified nursing student, doing her first ever 12-hour night shift. I was ready and determined to soak up all the knowledge I possibly could. In four short months, under the leadership and guidance of staff nurse Glendalis Grullon (who turned out to be the best preceptor and continues to be my mentor to this day), I thrived. Glendalis taught me so much about the various diagnoses and treatments. But beyond that, I learned how to be a good, caring nurse, not only to the children but also to their families. Very often, parents refer to the nursing staff as members of their family because of the bond they form during their child's care.
After completing my student nurse experience and graduating with my bachelor of science in nursing, I was fortunate to enter the Transition to Nursing Practice Program, with a position in hematology/oncology. I spent four-and-half years as a nurse on the unit, and my colleagues helped mold me into the provider I am today. I learned so much, from how to do very thorough assessments on my patients, to how to find the best hiding spots in a hospital room for a game of hide-and-seek with a patient. From answering a terrified parent's questions at 3 a.m. to holding a patient's hand and comforting their family as their child takes their last breath.
Pediatric hematology/oncology is a challenging field, but the rewards are substantial. You experience every up and down with families. I've joined a diagnosis talk with parents, given him his first dose of chemotherapy, taken care of him when he became acutely ill after a bone marrow transplant and then proudly watched his bubble parade to celebrate his end-of-treatment milestone. That is what pediatric hematology/oncology is about.  
While I loved my staff nurse role, my goal was always to become an advanced practice nurse. Although I was already enrolled in the program to begin my master's, I decided that it was important to take some time to build a solid bedside nursing foundation. I took time before returning to school to become an advanced practice nurse to do just that, and it was the best decision I could have made.
After earning my master's, I left hematology/oncology for a brief period to be a nurse practitioner on the Pain Treatment Services team. I had recently had a patient pass away. In her last few weeks, she struggled with pain control. It made me appreciate the value of our Pain Treatment Service team and how their expertise is like no other. When the time came to choose my next steps as an advanced practice nurse, I had the privilege of being able to join this team.
This position was a wonderful way to gain new knowledge and helped me transition from the bedside nurse role to the provider role. Although I had nearly five years of nursing experience under my belt, the advanced practice role required me to develop a new identity. I had to learn how to slightly elevate my mindset from that of a bedside nurse to one of a provider involved in patient-care decisions. This is something that develops over time, and by gaining confidence.
As I reflect on my journey, one thing sticks out most. It's the camaraderie of the staff who band together to ensure that everyone — a volunteer, nursing student, new nurse, or advanced practice nurse — has the human and clinical tools and support to make the impossible possible. I've learned that every care encounter offers a moment to learn from or to seize an opportunity to make a difference. One day I hope to share some of these moments as an instructor and mentor to nursing students, to help them find meaning in their own journey, every step of the way.
Learn about Dana-Farber/Boston Children's Cancer and Blood Disorders Center.