Cracking the code on Kleefstra syndrome: It takes a community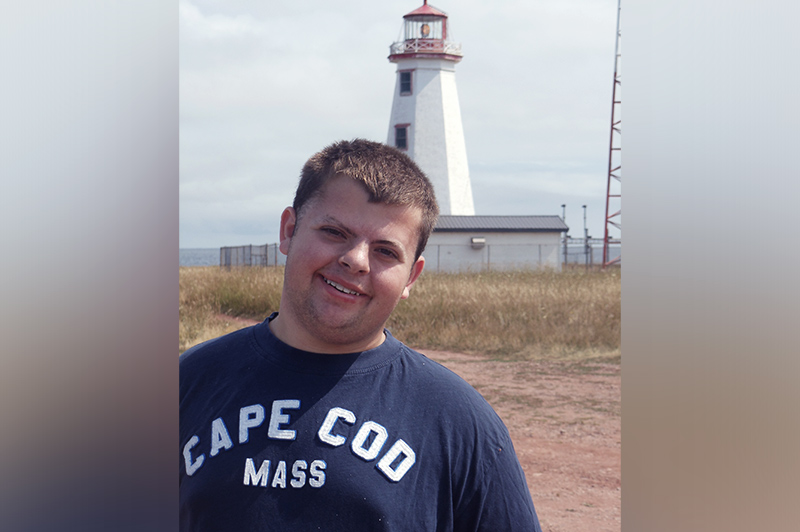 Paul Terry is a staunch advocate for people with rare diseases — but researchers were only able to put a name to his condition five years ago. It was an answer he and his family had long sought.
When Paul was a baby, his parents saw that he wasn't hitting all his milestones. Their pediatrician felt he might have developmental disabilities, and that there might be some genetic cause.
"Paul was always tested, from 18 months of age," his mother Martha says. "He had developmental challenges, but they couldn't identify a root cause."
Paul was raised just like his siblings — doing the same things, with the same expectations, despite his mild intellectual disability. In the meantime, Martha kept looking for answers.
Each time science made an advance in genetic testing, Paul was tested again. But the answer was always, "We didn't find anything."
When Paul turned 21, his pediatrician suggested he get tested one more time. To the family's surprise, Dr. Catherine Nowak at Boston Children's Hospital, who had taken over Paul's genetic testing, told them, 'We found something.'"
It turned out Paul had a condition that was so rare it had only recently been identified: Kleefstra syndrome. "That was amazing — there was a name," says Martha. "The question then became, 'What does that mean exactly?'"
Helping define a rare syndrome
Paul and Martha decided to enroll in a natural history study at the Rosamund Stone Zander Translational Neuroscience Center (RSZ TNC) at Boston Children's. It aims to define the full spectrum of Kleefstra syndrome over time, helping clinicians and families know what to expect.
Did you know?
Roughly 1 in 10 people in the U.S. have a rare disease.
70 percent of rare diseases start in childhood.
72 percent of rare diseases are genetic.
More than 7,000 rare diseases have been identified to date.
All childhood cancers are rare diseases.
More than 90 percent of rare diseases have no FDA-approved treatment.
"Kids with Kleefstra syndrome tend to be really sweet, kind, and social," says Dr. Siddharth Srivastava, Paul's neurologist and co-leader of the study with genetic counselor Zoë Frazier. "But after puberty, they typically go through a regression — they often stop sleeping for days and go through big behavior and personality changes. Some develop autism-like features, anxiety, depression, or psychosis, and some even become unresponsive. The sleep changes seem to be the first indicator of this regression."
But Paul and some other study participants are showing that Kleefstra syndrome has a wide spectrum of severity. Paul went through puberty without any pronounced regression. He gets anxious sometimes and has long been a restless sleeper, but his condition is relatively mild, as is the genetic mutation that caused it. The bigger the mutation, the more severe the symptoms tend to be.
"Some people with Kleefstra syndrome have a total deletion on chromosome number 9, and some have a misspelling of the gene on chromosome number 9," Paul explains. "Their paths may be totally different."
"We wanted to help in any way we could to clarify the journey others might have," adds Martha.
Finding a Kleefstra community
Dr. Srivastava oversaw Paul's behavioral, cognitive, and health screenings at the Kleefstra syndrome clinic together with geneticist Dr. Anne O'Donnell. The clinic currently sees 50 to 60 patients and is one of the few offering specialized care for Kleefstra. The team continues to screen Paul for potential complications such as mental health problems, hearing loss, seizures, kidney problems, and heart problems.
Being in the study has had another benefit: It's brought the Terrys into a community of people with Kleefstra syndrome.
Paul, now 26 and living independently, enjoys being a mentor to the younger kids. "I think the study will accomplish kids knowing they have someone to look up to," he says. "People who are disabled, who know they're disabled but it doesn't hold them back."
Studying sleep and circadian rhythms in Kleefstra syndrome
Because severe sleep disruption strikes 50 to 90 percent of teens with Kleefstra syndrome, Dr. Srivastava wants to better understand it. Does it cause or contribute to cognitive and behavioral regression? To learn more, he plans to track participants' sleep patterns with Fitbits.
Meanwhile, through a project funded by the RSZ TNC, his partner Dr. Jonathan Lipton is studying how the gene linked to Kleefstra syndrome, EHMT1, may affect circadian rhythms, or the body's natural day/night cycles. In some neurodevelopmental disorders, these rhythms are thrown off, affecting not only sleep patterns but the timing of key cell activities that affect brain function.
Dr. Sarah Ferraro in the Lipton Lab has been manipulating EHMT1 in cells and using a machine called the LumiCycle to observe the cells' circadian rhythms, which register as flashes of light. She's shown that deleting or disabling EHMT1 weakens cells' natural circadian oscillations.
Now, the team is studying skin cells donated directly by people with Kleefstra syndrome. The cells' circadian fluctuations can be cross-referenced with symptoms and sleep patterns gathered in the Fitbit study.
"We want to find out which comes first — the circadian disruption or the neurodevelopmental regression," Dr. Lipton explains. If specific treatments for Kleefstra are developed, this knowledge could potentially inform what time of day or at what stage in a child's development they're given, he adds.
'It just takes time and practice'
When not spreading awareness about Kleefstra syndrome, Paul attends community college, studying hospitality and tourism management. He hopes someday to be a food service director.
"Paul knows he has a disability, but he doesn't give in to that and doesn't really think about that," says Martha. "He just goes for it."
"I'm good at cooking, skiing independently, and swimming," Paul points out. He loves classical music — he was was a guest conductor for the Portsmouth (N.H.) Symphony Orchestra and also got to meet conductor Keith Lockhart backstage at a Boston Pops performance. While he has not mastered driving or bike riding, he hasn't given up, and Martha doesn't want to hold him back.
"It just takes time and practice," says Paul.
For more about our work on rare diseases, visit the Manton Center for Orphan Disease Research.