The COVID-19 vaccine for kids: When will children be vaccinated?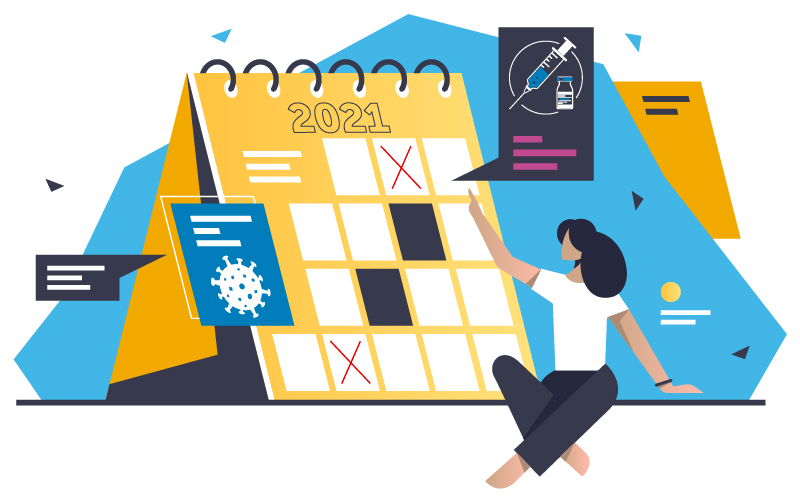 In late 2020, the U.S. Food and Drug Administration (FDA) gave emergency use authorization to two COVID-19 vaccines — one from Pfizer/BioNTech, the other from Moderna. Other vaccines are expected to be authorized soon. Currently the Pfizer vaccine can be given to people ages 16 years and older; Moderna's is for use in those 18 and older. But which older teens are eligible to be vaccinated — and when will a vaccine be approved for younger kids? Dr. Kristin Moffitt, a physician in the Division of Infectious Diseases at Boston Children's Hospital, and Dr. Amanda Growdon, of the Department of Pediatrics, offer expert insight.
Which teenagers are most likely to be vaccinated first?
Most teens age 16 to 18 won't receive the vaccine in the first several months of distribution. This is because teens generally don't become seriously ill when infected with COVID-19. However, some teens in this age bracket will be eligible for vaccination sooner. These include those 16 and older with underlying health conditions.
Specific recommendations on what qualifies as an underlying condition, and the timing of the vaccine rollout, are likely to vary from state to state.
Are the vaccines now being tested in children younger than 16?
Both Pfizer and Moderna have already begun testing the vaccine in kids as young as 12. Pfizer began enrolling children 12 to 15 years old into their study back in October 2020. Moderna started their trial in 12- to 17-year-olds in December. Both trials hope to enroll about 3,000 volunteers.
These adolescent trials will help determine whether the vaccines are safe in this age group and whether they have any potential side effects. They will see if these vaccines produce a strong immune response in the vaccinated teens.
Will the vaccine be tested in young children?
Pfizer and Moderna will begin studying their vaccines in children between age 5 and 11 after results from their adolescent trials are available. That would happen this spring at the earliest. Based on the safety data from the adolescent trial, the companies may have to test lower doses in younger children.
When might a vaccine be available for young children and adolescents?
Both Pfizer and Moderna hope to have enough safety and immune response data from their clinical trials in adolescents by spring 2021 if they recruit enough volunteers. If that happens — and the trial data supports it — Pfizer and Moderna predict that their vaccines could be authorized for use in 12- to 17-year-olds before the start of the next school year. It will take longer for younger kids: We don't expect a vaccine to be authorized for those under age 12 before late 2021 or early 2022.
Because it may be at least a year before a vaccine is available for all people, including children under age 12, it's important to stay vigilant about physical distancing, wearing masks, and regular hand-washing. Until everyone has the chance to receive a COVID-19 vaccine, these public health steps are some of the best way to keep everyone safe.
Get more answers about our response to COVID-19.