Transitioning to adult care for sickle cell disease: Ariyanna's journey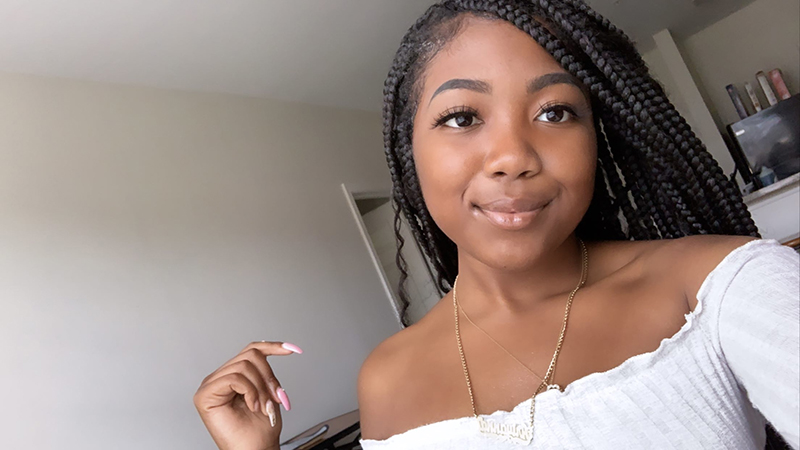 Ariyanna Agnew sits in a waiting room at Beth Israel Deaconess Medical Center (BIDMC). The 22-year-old, who has been a patient of the Dana-Farber/Boston Children's Cancer and Blood Disorders Center Sickle Cell Disease Program for more than a decade, is seeing an adult hematologist for the first time. It's a milestone event that would ordinarily evoke anxiety, but not for Ariyanna. She's done her homework, weighing small versus large sickle cell programs, as well as looking for a hematologist with the best bedside manner. Plus, she has Jackie by her side.
Continuity of care
Jackie Miranda is Ariyanna's social worker at the Dana-Farber/Boston Children's Sickle Cell Disease Program. When it's time for patients to begin their journey into adult care, she often accompanies them to their first appointment.
"It's like a warm handoff," she says. "These kids have always been guided by their parents, so they've never experienced the process of walking into a new institution, figuring out where to register or where to go, and, surprisingly, a lot of them get a little tripped up sharing their medical history."
This is part of a model of care put in place to help make the transition to adult care seamless. Dr. Matt Heeney, director of the Sickle Cell Disease Program, says transition has to be seen as a process that ultimately leads to the moment of transfer of hematology care to the adult setting. This transition process is gradual and begins in the early teens with decreased reliance on parental report of history and encouragement of patients to report, manage, and advocate for their own care.
"In the late teens, we ask their parents to step out of the room and begin giving instructions directly to the patients on what the next five years are going to look like and what they need to be prepared for, so they can stand on their own and be their own historians when asked for their medical background," Heeney says.
Ariyanna has become a master of her sickle cell disease. Over the years, the Massachusetts native methodically gathered information from her Boston Children's check-ups and, little by little, start doing her own research.
"I Google everything," she says. "It's my body — so if it's a weird bruise, if I don't know a medical word, or even a doctor's name, I'm Googling it."
On her pathway to independence, Ariyanna was given the task of selecting her own adult hematologist. As a guide, Dr. Heeney provided a list, told Ariyanna she should do her own research as well, but also reassured her he would continue to be her doctor until she found one that worked for her.
'Positive vibes'
Ariyanna is pleased. Her first appointment with Dr. Reed Drews, a hematologist at BIDMC, went smoothly. "He had a wonderful bedside manner," she says. Her research paid off.
Jackie is pleased as well, especially impressed with the way Dr. Drews acknowledged how difficult transition to adult care must be.
"I like this," Ariyanna says. "This was the right choice. I got positive vibes. And that's what I want is positive vibes."
Learn more about the Sickle Cell Disease Program.