GALLERY: Custom-built 'trainers' help clinicians master procedures
Walking into the SIMPeds Engineering Studio, a few blocks from Boston Children's Hospital, the first thing you notice is body parts — high-fidelity replicas of human anatomy in various sizes. Some are in a glass display case, while others are laid out in various states of assembly, from a lone finger to the complete abdominal cavity of a newborn, packed with diminutive organs. Six newborn-sized, hollow duodenums, cast in rubber over a plastic mold, hang ready near a workbench.
These aren't your usual medical mannequins.
In the adjoining InventorSpace, three 3D used by surgeons to rehearse an upcoming complex operation. Others are used for general training and preparedness purposes. A collaboration with the special effects company Fractured FX helped launch the first trainers; today there are more than 20 in various stages of development. They allow practice of rare or infrequently performed procedures as well as some common ones that pose challenges in children.
Knowing the nose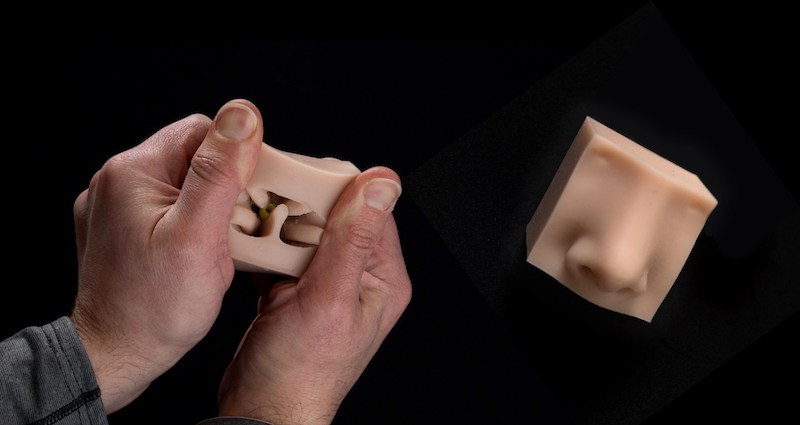 Not your average doll arm
Zip-on trauma practice
Addressing atresia
Taking the trepidation out of trephination
The thigh bone's connected
Cath port confidence
Fabrication at their fingertips
Each trainer represents a close collaboration between clinicians and SIMPeds simulation engineers Greg Loan, Andrew Hosmer, Katie Livingston, Noah Schulz, Mariah Geritano, Duncan Smith-Freedman and Reimi Yonekura. Maeve Geary, a PhD candidate from Bolton University (U.K.), also contributes to the designs.
Plenty of new trainers are on the drawing board or in the early stages of construction. While priority for custom trainers is given to clinicians at Boston Children's, outside requests will be entertained. "We have seven engineers and a large capacity for fabrication," says Melissa Burke, director of Business Development for Boston Children's Simulator Program.
Learn more about SIMPeds and SIMEngineering