Hip pain resolved, Louise takes steps to become a surgeon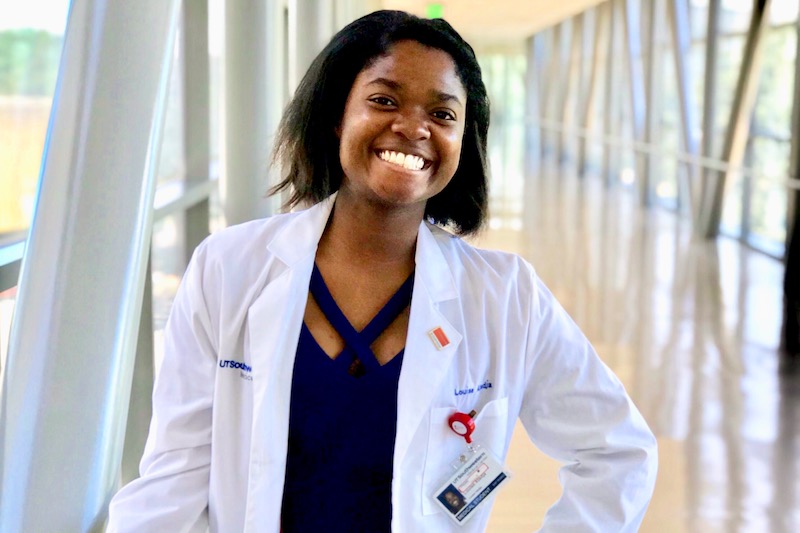 Louise Atadja couldn't remember the last time her two big toes touched. Ever since she was born, her feet rotated out. As she got older, the outward position of her feet became more pronounced. "It caused me to walk strangely and run weirdly," says the former track star who excelled in her sport even though her gait made it hard to stay in her own lane. She grew used to people staring and asking why she couldn't walk in a straight line. "For me it was just the way things were."
Now in her second year of medical school, Louise understands that her externally rotated feet and the knee pain she suffered throughout high school and college originated in her hip joints. Born with hip dysplasia and hip impingement, the long bones of her thighs did not fit comfortably in her hip sockets. Like many people, Louise didn't have noticeable problems until she was in her teens. Without realizing it, she learned to rotate her legs outward to relieve the pressure on her ill-fitting joints. Over time, every step she took reinforced the unusual position of her legs. "Eventually my feet were so far externally rotated, I couldn't make my big toes touch." With a wry sense of pride, she adds, "I used to be able to turn my feet back past 180 degrees though!"
Knee pain and a second opinion
Chronic knee pain followed Louise throughout her track career, but that didn't stop her from running. Even after an MRI showed she had very little cartilage left in her knees, she won medal after medal on the Amherst College track team, ignoring the fact she sometimes could barely walk after meets. Finally, after graduation (and her final track meet), Louise contacted Boston Children's Hospital.
Hip dysplasia occurs when the ball at the top of the thigh bone (femur) is loose within the hip socket (acetabulum), causing stress on the tissues that line the socket and straining hip cartilage.
Hip impingement is friction in the hip joint caused by abnormal contact between the femur and acetabulum.
"Up until then, the focus had always been on my knees, because I ran, and that's where the pain was," says Louise. Things changed when Dr. Pierre d'Hemecourt, a sports medicine physician at Boston Children's, took an x-ray of Louise's hips. "Dr. d'Hemecourt told me the angles of my hips looked pretty serious and referred me to Dr. Travis Matheney." Based on the severity of her hip dysplasia, Dr. Matheney, an orthopedic surgeon, recommended periacetabular osteotomy (PAO), a surgical procedure that involves making cuts in the bone around the hip socket so it can be rotated into a proper position. He would also perform a femur osteotomy to remove the friction within the joints.
A tale of three surgeries
About 60 percent of patients with hip dysplasia have it in one hip. Louise was in the 40 percent of patients who had it in both hips. It would take two separate surgeries to correct, one for each hip. The first surgery, on her right hip, took place in June 2017. In September, she started interviewing at medical schools. "I was on crutches for my interviews," she says. "It was either that or postpone going to medical school."
In April 2018, she had surgery on her left hip and started applying to medical schools. For much of her first year at the University of Texas Southwestern Medical Center at Dallas, she got around campus on a crutch. But even after two surgeries and intensive physical therapy, the pain did not go away. Her healthcare team in Texas blamed her continued discomfort on leg weakness, but Dr. Matheney suspected the problem was structural.
"Dr. Matheney explained that my bones were in the correct position, but my muscles were still compensating for the old deformity," says Louise. After so many years of running on outward-rotated hips, her iliotibial (IT) bands, the connective tissues on the outside of the thighs, were still pulling her legs out of place. One week before Christmas 2018, Louise underwent one final surgery to lengthen her IT bands.
Small victories on the long road of recovery
Louise will always remember being able to put her feet together for the first time. She remembers the moment she realized her limp had gone away and the feeling of liberation when people no longer stared or asked why she walked funny. She celebrated when her mobility improved to the point that she could go grocery shopping alone. Finally, she could sleep through the night without waking up in pain. "Even though this was a long recovery, it was those little moments, the small victories along the way, that kept me going."
"Louise has come such a long way since I first met her in 2017," says Dr. Matheney. "We corrected structural problems in her hips with surgery, but her commitment to physical therapy and all the work she did in Texas were equally critical to where she is today."
Running again
During her first year in medical school, Louise shifted much of her energy from running track to studying medicine. But she missed her favorite physical outlet. Every time she took an exam or squeezed more hours of study into a long day, she missed having a way to balance the work of her mind with that of her body. Finally, in early September 2019, she returned to the track. Her Nike running app said she had last run in November 2016. Stepping onto the familiar terrain almost brought her to tears. "It was the smell of the track that got me — it brought everything back. To be able to run again, I couldn't contain my joy." For now, she's taking things slow, giving her body time to catch up with her love of the sport. In December, she'll run a 5-kilometer race.
She also looks forward to returning to the surgical arena, first as a student and eventually as a surgeon. "I have many, many reasons for wanting to go into orthopedic surgery," says Louise. "Dr. Matheney is one of them. He's an example of how doctors who listen to their patients are better at helping them heal."
Read more about Louise's complex hip condition and learn about the Child and Young Adult Hip Preservation Program at Boston Children's Hospital.