Finding the best care for Zeeva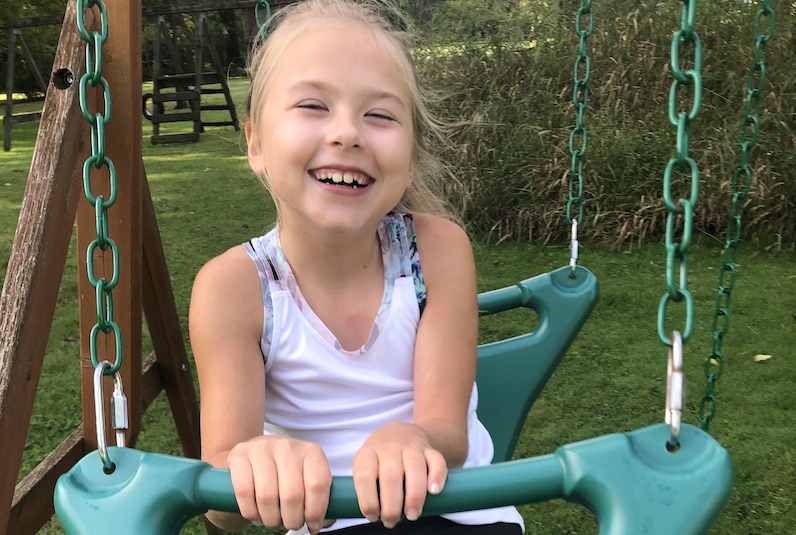 When our 8-year-old daughter, Zeeva, giggles and runs in her walker to the swing set, it's like watching pure childhood joy. Understanding what it has taken to get her to this point, though, is close to unimaginable.
Zeeva is one of fewer than 150 people in the world with a rare disease called Gould Syndrome or COL4A1/A2. This condition causes mutations in genes that produce a specific type of collagen. Because the collagen is found throughout the body, COL4A1/A2 affects many organ systems, including the brain, kidneys, eyes, and muscles. The disorder causes many symptoms, not the least of which are strokes and epilepsy. In her first six years of life, Zeeva spent hundreds of nights in the hospital, had 13 operations and countless procedures, (from eye surgeries to Achilles heel, a shunt placed in her brain, and spine surgery). She was struggling to advance both cognitively and physically because of uncontrolled epilepsy. She had seizures every day, couldn't gain weight, sleep right, or generally enjoy her life.
When we didn't feel we had any options left for treatment, my mom suggested we call Boston Children's Hospital.
Our experience with Boston Children's was very different from the other places we had been for epilepsy and neurology treatment. People listened to us and to Zeeva in a very different and proactive way. Dr. Joseph Madsen was as wonderful in person as he had been on the phone. (No doctor had ever taken a call on their lunch break to speak with me). The first time he came to meet us, Zeeva threw a sock at him. He smiled, caught it, and asked Zeeva if he could throw it back. His bedside manner was incredible.
Dr. Madsen suggested Zeeva have an operation called a functional hemispherectomy. He would separate the two halves of her brain by cutting tissue called the corpus callosum, then make some additional delicate cuts under the microscope. He was confident this would reduce or stop the seizure activity. He also wanted to remove a shunt that was implanted in Zeeva's brain to treat a cyst in her brain caused by porencephaly. The surgery came with risks and was the hardest decision we had ever faced, yet we felt 100 percent confident in Dr. Madsen and the epilepsy team.
Zeeva woke up after a ten-hour procedure, opened her eyes, and it felt like we were seeing her for the first time. I cannot describe the feeling of seeing your child healed. Going from having seizures every day for six years to having no seizures is nothing short of a miracle.
That's not to say Zeeva hasn't had to work hard since the surgery. She has regular physical, speech, and occupational therapy. But she is learning to read, enjoys swimming, horseback riding, and is a glass jewelry and pottery artist. Not only did Dr. Madsen, help heal Zeeva's brain, but he was instrumental in supporting us as we founded the Gould Syndrome Foundation, a 501(c)(3) non-profit that promotes education, advocacy, and medical advancements in Gould Syndrome, COL4A1/COL4A2 diseases. I don't think we will ever be able to truly articulate our appreciation for Dr. Madsen and Boston Children's for all that they did for Zeeva and our family.
Learn more about the Epilepsy Center.