You've had the COVID-19 vaccine. What now?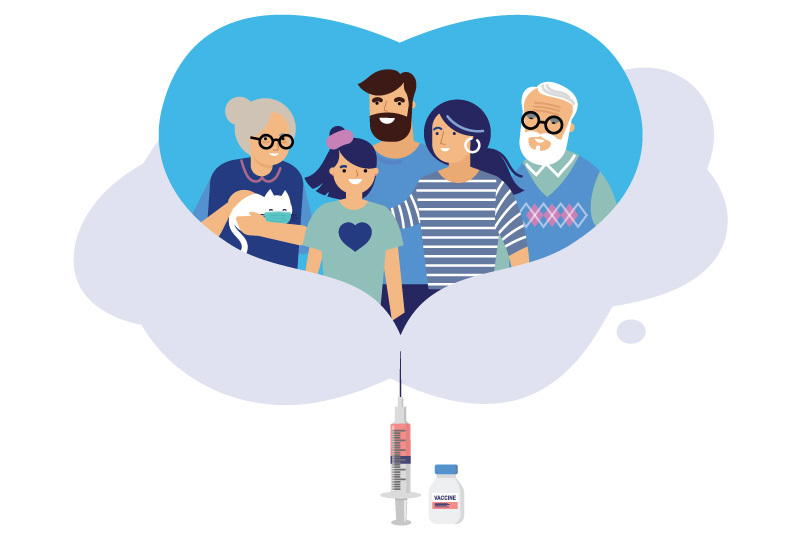 As more and more people across the country get vaccinated for COVID-19, the rules for social distancing are also slowly shifting. Recently, the Centers for Disease Control and Prevention (CDC) rolled out new guidelines for those who are fully vaccinated. But these rules can still be a bit confusing for families, especially when some family members are vaccinated and others are not.
To answer some questions about the new guidelines, we turned to Dr. Kristin Moffitt, an infectious disease specialist at Boston Children's Hospital.
When are you officially fully vaccinated?
According to the CDC, you are not fully protected until at least two weeks from your final vaccine. So if you've had the Moderna or Pfizer vaccines, this means two weeks from your second dose, or two weeks out from the single-dose Johnson & Johnson vaccine. For full protection against COVID-19, it's really important to wait to relax any rules until you are fully vaccinated.
What can adults who are fully vaccinated now do safely?
People who have been fully vaccinated can now get together indoors in small groups without wearing masks, providing all are fully vaccinated. You can also gather indoors with other unvaccinated people, provided they are from one household. But, you still need to take into consideration who is coming together. If any of the unvaccinated people are at severe risk for illness from COVID-19, it's safest to continue to wear masks and only meet outdoors.
Our kids are not vaccinated yet. Is it safe to visit with vaccinated grandparents indoors?
Yes, if grandparents are fully vaccinated it should be safe for your family to visit with them inside without masking. They are now well protected from severe disease and probably fairly well protected from transmitting the virus to others.
However, to be as safe as possible, limit the visit to one household only. For example, you would not want to visit at the same time as your unvaccinated siblings and their families. And if anyone in your household is at increased risk of getting very ill from COVID-19, you will want to continue wearing masks and meet outdoors.
Can we get together with other parents who have been vaccinated and their unvaccinated kids?
While there is some level of risk, it depends largely on the specific households involved. If in one family, the parents are fully vaccinated and the children's exposure to outside risk has been minimal, there is less risk. But if there are children in the household who play sports or participate in other activities outside of the household, especially without masks, that raises the risk. It's really up to each household to communicate their own risk, and determine what they feel comfortable with. However, if there are unvaccinated people in either household who are at higher risk for severe illness, it's best to skip this type of gathering for now.
Can vaccinated people now go to larger, indoor events?
According to the CDC guidelines, vaccinated people should still avoid medium- to large-sized events. The level of risk at these events has to do with the number of cases in the community as well as the type of event. This includes whether it's indoors or outdoors, the type of ventilation in the room, as well as the length of the event and the number of people attending. The longer and more crowded the event, the higher the risk. Also, events at which there is singing or shouting may pose a higher risk.
Do we still need to avoid travel?
The CDC has not yet changed their guidelines for travel, however some states have updated their individual travel guidelines. If you are vaccinated and do choose to travel, it's still important to follow all safety guidance, including masking and washing your hands often.
Why do vaccinated people still need to wear masks and social distance in public?
While we've come a long way since the start of the outbreak last year, there is still much about COVID-19 we don't know. For example, we are still researching how long vaccine protection lasts and the level of protection current vaccines offer against new variants of the virus. Until we have more data, it's important for everyone to continue to use prevention measures, regardless of your vaccination status. This is not only to protect yourself, but to protect other vulnerable people in your community.
Do these guidelines apply to people who have already had COVID-19?
These guidelines are only for people who have been vaccinated. Because natural immunity from infection is more variable than immunity from a vaccine, it's harder to predict an individual's level of immunity after having COVID-19. The CDC recommendations to follow all safety guidance when with people outside of your household have not changed for people with a history of COVID-19 infection.
Learn more about Boston Children's response to COVID-19.